Having braces isn't just about improving your smile; it's also about improving your overall dental health. Orthodontics may be used to correct malocclusions, overbites, underbites, cross bites, deep bites, crooked teeth and other flaws of the teeth and jaws. Braces may be used in conjunction with other orthodontic appliances to help with making corrections to a person's bite.
Braces Have Changed: From Metal to Tooth-Colored to Clear
Kids Dental answers your questions about braces and how they have changed.
During your initial orthodontic consultation, the Orthodontist will review your treatment options and help you determine the course of treatment that will be most effective for your specific needs.
Some orthodontic conditions requiring braces include:
Gaps between teeth
Gaps between the teeth allow food particles to more easily get stuck and can also cause abnormal jaw growth or gum recession.
Overbites
An overbite is the term used when the top teeth are too far forward to correctly make contact with the lower teeth. This can be caused by thumb or finger sucking or simply by genetics or specific bone development patterns. This condition can lead to temporomandibular joint (TMJ) problems (causing pain in the jaw) or cause unhealthy wear patterns in the teeth.
Underbites
An underbite is the term used when the lower teeth are further forward than the upper teeth. It can be caused by irregular jaw growth in either the upper or lower jaw, or both. Missing upper teeth can also contribute to the development of an underbite. This condition can lead to TMJ problems (with pain in the jaw) or cause unhealthy wear patterns in the teeth.
Crossbites
In a healthy bite, the outside ridge of the lower teeth will make contact with the middle of the upper teeth. A crossbite occurs when some of the lower teeth edges are outside of the upper teeth edges. This can be result of the upper and lower jaws being misaligned. This condition can cause unhealthy wear patterns on the teeth, gum disease and bone loss.
Open Bites
An open bite describes the condition that occurs when several upper and lower teeth are unable to make contact with each other. This can be caused by thumb or finger sucking or simply by genetics or specific bone development patterns. An open bite can make it difficult (or even painful) to bite or chew and can sometimes interfere with speech. This condition can also lead to TMJ problems.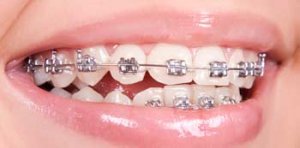 Excessive Crowding
Overcrowding occurs when there is not enough space in the mouth for all of the teeth to fit with correct alignment. There are several ways this condition may be treated but it is important to treat because crowded or crooked teeth can make it difficult to brush and floss to maintain oral health. Failure to correct crowded teeth may result in increased gum disease and tooth decay. Crowded teeth may become more crooked over time.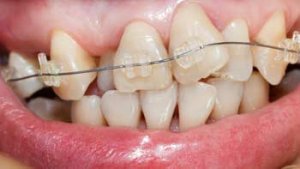 Metal braces are made from stainless steel brackets and wires remain the most popular choice for braces and are very effective.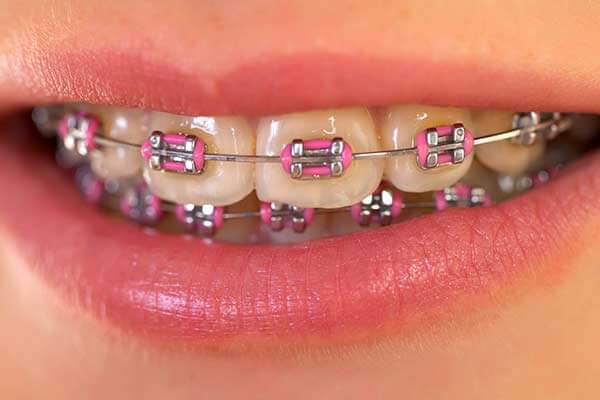 Virtually invisible, there are several advantages clear braces have over traditional braces and aligners. Clear braces combine tieless braces with high technology archwires that are clinically proven to move teeth fast and comfortably with truly spectacular smile and facial results.
Available from skilled orthodontists, clear braces combine the best of traditional clear braces and invisible aligners to deliver a discrete treatment experience with results that go beyond straight teeth.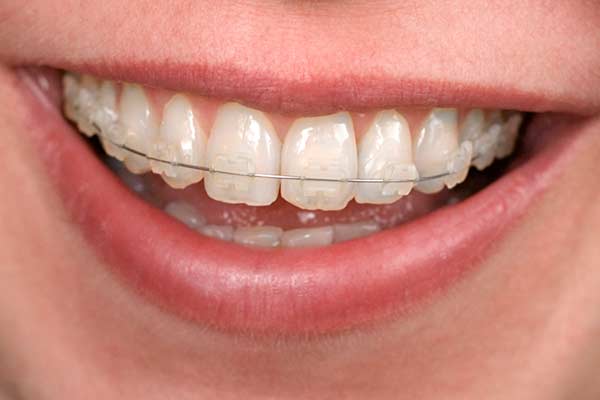 Invisalign® takes a modern approach to straightening teeth, using a custom-made series of aligners created for you and only you. These aligner trays are made of smooth, comfortable and virtually invisible plastic that you wear over your teeth. Wearing the aligners will gradually and gently shift your teeth into place, based on the exact movements your dentist or orthodontist plans out for you. There are no metal brackets to attach and no wires to tighten. You just pop in a new set of aligners approximately every two weeks, until your treatment is complete. You'll achieve a great smile with little interference in your daily life. The best part about the whole process is that most people won't even know you're straightening your teeth.